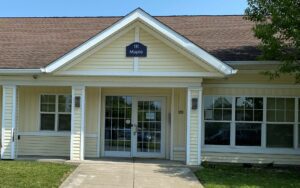 East Buffalo Counseling Center
Located in the Kirsten Vincent Respite and Recovery Center
111 Maple St., Buffalo, NY 14204
Hours: Mon.– Fri., 8:30 AM – 4:30 PM
Phone: 716-828-1719
Email: EastBufCounseling@shswny.org
Not every emergency requires a visit to the hospital.
Spectrum Health's East Buffalo Counseling Center, located in the Kirsten Vincent Respite and Recovery Center, provides a safe environment where you can get immediate help and support.
No appointment necessary. Call 716.828.1719 to check in ahead of arriving. Spectrum Health has onsite Peer Support Specialists, Crisis Workers, and Clinicians who will help you connect with the services you need.
Services Offered On-Site:
Peer support
Rapid access to on-site clinical counseling
Pre-crisis and crisis support services
Linkage to further treatment through Spectrum Health
and Human Services
Linkage to additional community support and resources
Spectrum Health's Buffalo H.O.P.E. (Helping Our People Equitably) Crisis Counselors are designated to help
City of Buffalo residents heal following recent acts of violence against the community. Connect with one today.
"This is one of the few places in Western New York where an individual can walk in and get immediate clinical counseling," said Dan Galvin, MSW, CRPA, Director of Peer Services and Integration. "Our mission is to provide quick access to a community that hasn't always had that level of access. The reality is that long wait lists for mental health or substance use treatment can cause people to wait weeks for a first assessment. Here, they can get immediate help."
No one is denied services at the East Buffalo Counseling Center due to inability to pay. The ability to offer these innovative services to individuals in a crisis were funded initially through a grant awarded to Spectrum Health by the Western New York Blue Fund of Highmark Blue Cross Blue Shield, eliminating barriers to accessing these services.
Spectrum Health is a New York State Certified Community Behavioral Health Clinic.